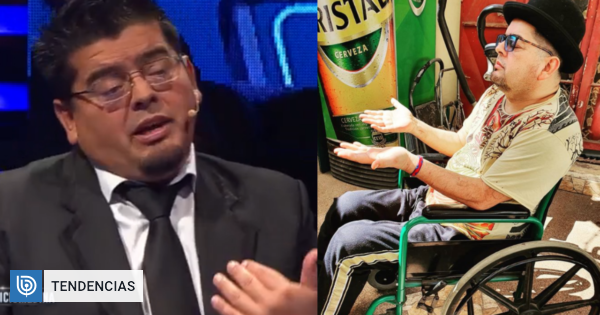 The national humorist lived in difficult times Mauricio Medina, known as Indians of the disbanded comedy duo Dynamite Show. In August, he was admitted in a serious condition after suffering complications from his diabetes and now, almost a month after the episode, he told how his recovery has been. "I was wrong, but not anymore", admitted.
The former employee in Paul Vasquez, alias The lean, told the national newspaper Las Últimas Noticias that the hospital stay lasted two weeks and that he must be exposed to two operations surgical cleaning of the right foot, a product of chronic disease.
In the intervention, performed in Barros Luco Hospital On August 31
, they removed a large amount of skin from the area, for which he temporarily has to move in a wheelchair.
"I want to laugh at the situation. I have not asked myself to get up with my right foot and for the 18th (national holidays) I could only dance one foot of cueca ", he said jokingly in his purest style.
The comedian admitted that he had long neglected his diabetes and stopped participating in routine checkups, especially after the pandemic began. "I fooled myself and see how I ended up. This is not a good idea. I have to go to the cure every three months (…) I go with a waterproof suit, a mask, a face mask so as not to catch COVID-19, he said.
Medina explained that after cures, they are painful during the first hours. "It develops well, quickly. There are several steps, three or four more months", progress.
With everything, Indians He assured that he "felt good" with the family's affection at home. Come smoke one pack of cigarettes a dayand now he said that amount was reduced. "I have a more or less strict diet (…) I have lost 10 kilos and I have to lose nine more. I will look like DiCraprio, he continued jokingly.
As for the wheelchair, the comedian said he has no other option to get around. "I can not walk. I have to go in the chair, my new 2 × 2 truck. Life goes on", He assured.
Finally, Medina announced that despite his sensitive situation, he is preparing a new virtual presentation that will be held on October 1 at 10 pm in Passline. "That's why I decided to do this show. There I will sit on a chair (…) I do not want to give the picture of the poor man, the poor comedian in a wheelchair, because it's not a good sign. "People think you're sick and are no longer employed," he closed.