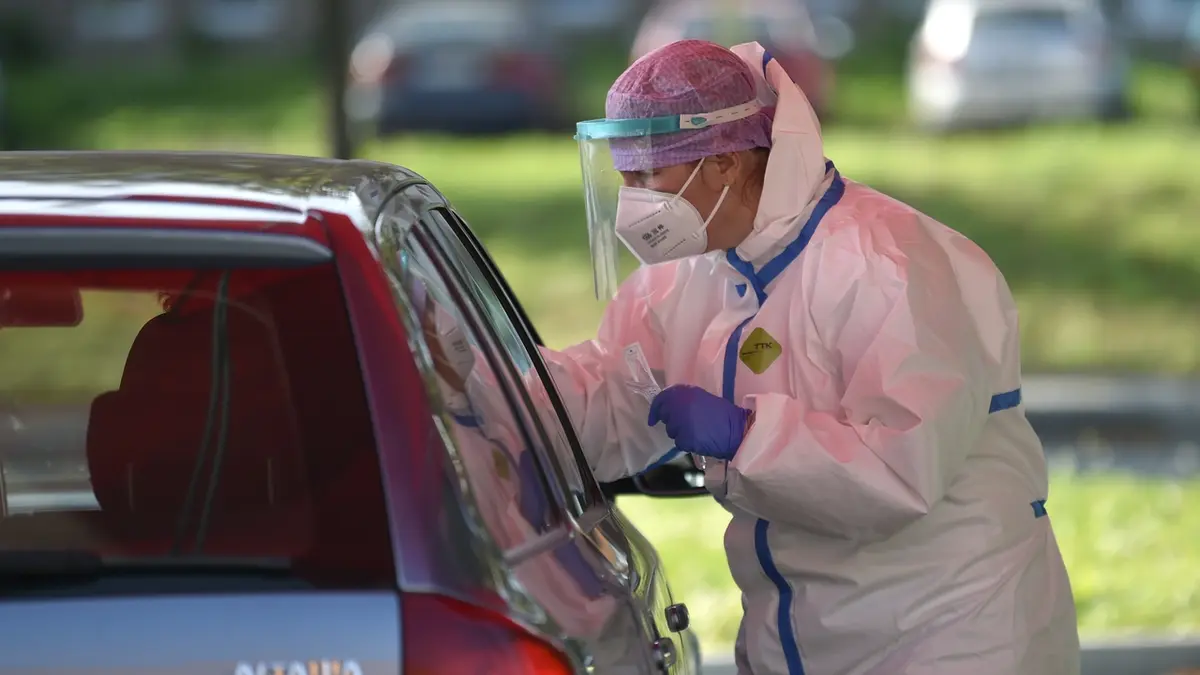 5:58 – On Tuesday, the number of confirmed cases of infection with the new coronavirus in the Czech Republic increased by 2394, which is the second highest daily increase since the pandemic broke out after 3128 cases on 8 September. There are currently 26,476 infected, a total of 53,158 people have been confirmed since March 1, of whom 531 have died.
According to information from Tuesday evening, 581 people are in hospital, of which 115 are in serious condition, which is also the most since the epidemic began. The number of infections in the country has increased significantly since the beginning of September and since then another 400 hospitals have increased. More than 1

00 people died in September, including 14 on Monday, most since April 8, when 15 people died.
In the capital, hygienists in the last seven days confirmed almost 218 cases per 100,000 inhabitants, followed by Prague East with about 202 cases, Prague West with 184 cases and Uherské Hradiště and 183 cases. In the last week, there are 177 infected people per 100,000 inhabitants in the Liberec region and 164 cases in the Plzeň-město district.
5:55 – V Germany On the day of 1769, cases of coronavirus infection were confirmed, there were a total of 275,927, according to the Robert Koch Institute. The number of infected victims has increased by 13 to 9409. In recent weeks, more than 1,500 cases have been added daily, although in June and July it was less than 500.
5:49 – Germany on Wednesday after Prague and the central bohemian region, it is likely to include the whole of the Czech Republic on the list of epidemic-prone areas due to the spread of coronavirus. On Tuesday, Foreign Minister Tomáš Petříček pointed this out. The effects of such a decision are feared by Czech exporters as well as commuters, for whom an exception should currently apply. The fate of about 60,000 commuters is at stake, a negative coronavirus test will not be enough in Germany from October 1 after arrival from high-risk areas and a five-day quarantine will be required.
5:46 – V Mexico registered an additional 4683 infected per day, a total of 705,263 cases of covid-19 in the country. Another 651 infected people died, leading to 74,348 victims.
5:43 – V Brazil another 836 people infected with coronavirus SARS-CoV-2 died. There are already 138,108 victims. The number of infected people has increased by 35,000 to more than 4.59 million. Brazilian President Jair Bolsonaro, who has repeatedly downplayed the dangers of the coronavirus in the past, lamented the large number of victims of pandemics in his speech at the UN General Assembly on Tuesday. He also accused the media of politicizing the pandemic and causing panic by asking people to stay home. According to Bolsonar, this created "social chaos".
5:38 Number of new coronavirus victims in USA exceeded 200,000, the most in the world. US President Donald Trump first he ignored what he said and then said, "Well, I think it's a shame." He admitted that "if we did not do the right thing" there could be 2.5 million victims.
Source link