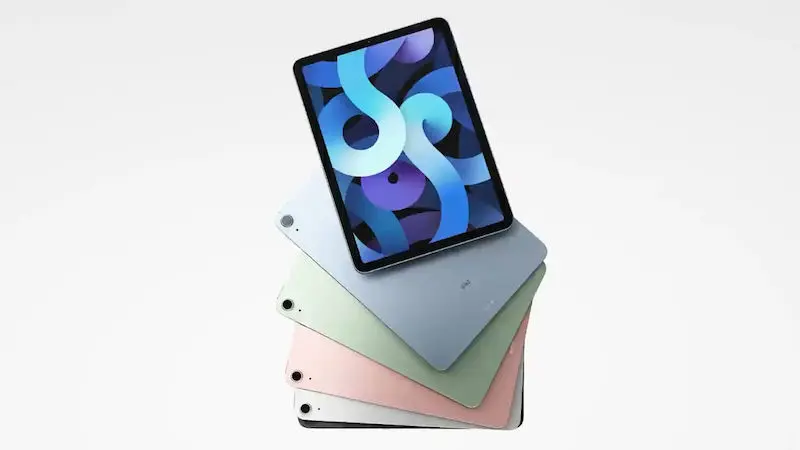 The new Air looks like a state-of-the-art iPad Pro with an 11-inch screen. But compared to that, it should be lighter and more compact. After all, it has a 10.9-inch screen with a resolution of 2360 x 1650 pixels.
In addition to space gray and silver, this novelty will also be available in a number of more attractive colors, such as pink, green or blue.
The most interesting thing about the new air, however, is not the appearance, but the components that are hidden inside. This is the first device with the logo of a delicious apple, which uses the new Apple A14 Bionic processor. It is more powerful than previous top models with the word Pro in the name, because the older A1
2Z Bionic chip is hidden in the intestines.
The processor itself would reportedly be up to 40 percent faster, and in the case of the graphics core 30 percent faster.
Aggressive pricing policy
Despite increased performance, however, the American computer giant has pushed the price of the news damn low. While the basic versions of the iPad start at 22,990 CZK, the new iPad Air with WiFi connection can then be purchased from the CZK 16,990.
The version with a SIM card slot for receiving mobile internet starts at 20,490 CZK. This applies to the news, as the original top model with the word Pro in the name costs 27,490 CZK.
Perhaps the only downside compared to the iPad Pro is the size range. The new iPad Air is only sold with a 10.9-inch screen, as mentioned above. When it comes to the Pro version, people have the choice between an 11 and a 12.9-inch screen.
Apple iPad Air
Photo: the manufacturer's archive
For games and work
Apple says the news is more powerful than most computers today. Few will be surprised that it is not only possible to work with this machine but also to play all the latest games.
Optional equipment also includes a keyboard equipped with a touchpad. Thanks to this, people do not have to reach the touch screen, but they can control the tablet in the same way as a classic laptop. In addition, the case has a USB-C port for easy connection of accessories. The predecessor did not know, he only had a keyboard without a touchpad.
The touchpad can also be controlled with a special Apple Pencil, which is especially useful for artists and graphic designers. But this, just like the keyboard, is purchased separately.
Those interested must take into account that the iPad Air no longer has a traditional flash connector but a more universal USB-C port. The presence of a fingerprint reader, which is hidden in the standby button, is also pleasing.
Apple iPad Air
Photo: the manufacturer's archive
Source link