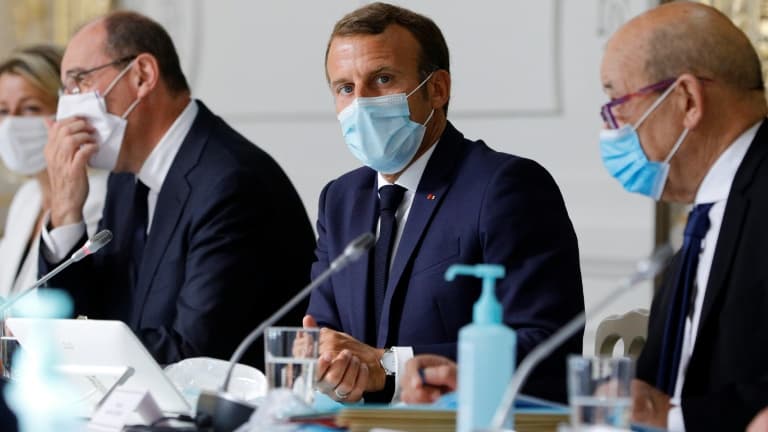 A new defense council on Covid-19 will take place on Wednesday morning, BFMTV was informed on Tuesday evening. Decisions should be made, especially in the case of Paris.
A defense council on Covid-19 is scheduled for Wednesday morning, BFMTV was told on Tuesday night before the announcement of new measures, especially for Paris.
"Several decisions will be made in the coming hours that will be announced by the Minister (Health Olivier Véran), either Wednesday evening or Thursday morning," had earlier in the day stated that the head of state is visiting a nursing home in Loir-et-Cher.
The Ministry of Health, for its part, stated that Olivier Véran planned his weekly update of the development of the coronavirus epidemic on Wednesday at 7 p.m.
Actions planned for Paris
A meeting was held on Monday between the Regional Health Agency of Île-de-France, the City Hall and the Paris Police Prefecture and, according to consistent sources, the ban on the sale of alcohol from 20:00, the ban on all gatherings in excess of 1
0 people, and lowering the maximum allowed level for large gatherings of 5000 to 1000 people. A ban on renting out halls for parties, including weddings, is also being considered.
On the other hand, no action would be considered for nursing homes in the Paris region, transport or time limits for bars and restaurants, which were categorically rejected by the Mayor of Paris Anne Hidalgo.
The Mayor of Paris warns against overly restrictive measures that would hinder economic and social life.
"We call for vigilance: we will live long with this virus, something must be done that is lively. The goal is to protect ourselves but we must allow a social life to take place," said Anne Souyris, Deputy Mayor of Paris in charge of Health .
"If we still ban all outdoor events, what should we do with cultural events like 'White Night' (scheduled for October 3) or outdoor cinemas?" she wondered.
New restrictions in large metropolises
While the Scientific Council calls for stricter restrictions in the 20 major cities, Lyon, Bordeaux, Toulouse, Lille and Marseille have all in recent days announced new restrictions to try to stop the virus' rebound.
These restrictions apply to the size of the authorized gatherings, visits to nursing homes, closures or reductions of bars.
With these localized measures, but which now apply to most major metropolises, France has tightened its health in an attempt to curb the rise, which sees a multiplication of positive cases and hospitalizations, as in other countries. neighbors.
Mathieu Coache with Clément Boutin and AFP
Source link