Over the past years, we've already seen plenty of signs and proof that technology is about to substitute people. Today, as it keeps evolving, the chances that this replacement will take place somewhere in the nearest future are even higher.
Is it true that machines can substitute humans? Can we expect this to happen in the nearest future? In this article, we are going to look at some proven facts that should make you think this over!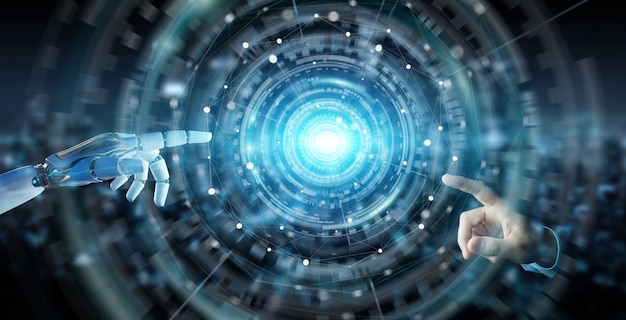 Development of Artificial Intelligence
Many people believe that the full development of AI would indicate the beginning of a brand new era that bases on true automation of everything we used to do. As AI continues developing, it steadily transforms different spheres of our lives. The following careers can suffer from it:
retailors;

teachers;

construction workers;

healthcare specialists;

experts in the fields of finance, etc.
And this is only a small part of a vast list. According to Adobe's 201

8 Digital Intelligence Briefing, AI is on the rise, and the number of businesses willing to adopt it is growing rapidly.
Fast-Paced Job Automation
As technology evolves, it gives businesses new opportunities to produce products faster and easier. The enhanced manufacturing process results in higher revenues, which is good for business owners, but is it good for regular workers?
Currently, it seems like humans can collaborate with machines to achieve greater results. However, in the overseen future, this might change as the active job automation will overtake a big deal of jobs that used to be done by humans.
Recently, the PricewaterhouseCoopers team from France has conducted an international analysis of the potential long-term effect of automation on our jobs. Based on the data collected from the study, PWC has outlined three major waves of automation:
The researchers insist that we will feel the first impact of automation by the mid-2020s – the first wave will overtake about 5% of existing jobs. Moreover, it is likely that all positions are at potential risk, whether they require low, medium, or high levels of education.

The second wave is expected to take place by 2025. It should take over from 10% to 15% of jobs. The research highlights that manufacturing, wholesales, and retail trade, as well as transportation and storage sectors, are at the highest risk.

Finally, by 2035, we can expect the range of jobs at high risk to increase up to 35-50%.
These forecasts are not promising from the regular workers' perspective. This basically means that about 50% of people will be replaced by technology at the workplace in the next 16 years.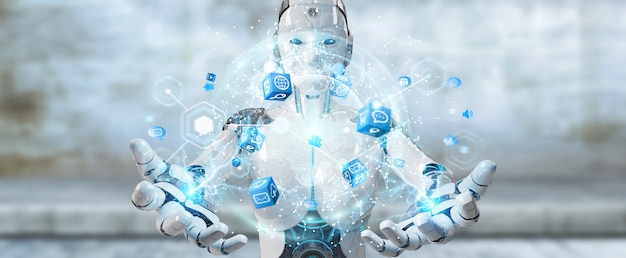 Dropping Prices for Industrial Robots
One of the biggest reasons why industrial robots still didn't overtake most jobs is that the price for them used to be sky-high. Not every business could afford to buy robots. However, this is about to change in the nearest future. Now, it is predicted that the price of industrial robots will fall by about 65% by 2025.
Add to this the fact that robots' operating expenses are also dropping, while their effectiveness and productivity tend to increase each year.
Unlike the cost of tech, the price for human labor is generally rising. All these facts highlight that soon hiring people will be less time and money effective than using robots. This especially applies to low-skilled jobs that technology can perform easily and faster than a human.
This statement is also supported by Loup Ventures' research that predicts the growth of the robotics market to grow by 175% in a decade.
Rapid Development of Robot Cars
Even if we step back from the topic of job automation and the labor market for a moment, we can also spy plenty of signs in our everyday life.
When Tesla has launched its first models of cars that can work autonomously, it was a big bang in the world of tech. Just a few decades ago, it was hard to imagine that the technology will evolve so much to introduce cars that don't need a driver. Now, this is a reality.
All this progress and further attempts to perfect this system give us some pretty good chances that somewhere in the nearest future people won't have to waste their time driving because machines can do it better. Some industry experts even predict that the new generation of children will never have to get a driver's license and won't get a chance to drive a car.
Growing Demand for Household Tech
Another clear evidence of the fact that technology is gradually replacing us is that the number of household tech keeps increasing rapidly.
All devices invented by humanity are aimed at making people's lives simpler and more effortless. Today, it is hard to find a household that wouldn't have some tech. 
People are not willing to do housework. Thus, they purchase washing machines, dishwashers, robot vacuums, and other devices to get rid of house chores.
Apart from the small tech that almost each of us uses daily, the popularity of smart home systems also keeps growing. More and more people prefer to entrust basic chores to an automated system run by a computer.
According to statistics, the number of smart houses in the US is expected to reach 61.6 million by 2023.
Final Words
Some of these stats and facts may sound frightening. However, there are many positive predictions, as well. First of all, it is hard to deny that technology has made our lives less stressful and much easier. 
To conclude everything discussed in this article, it is fair to say that technology has a high chance of substituting people in the overseen future. However, it is still not completely clear to which extent it will replace us and whether it will be for the best or worse.